We've covered some great introductory options to robotics, and discussed reasons why robotics is beneficial for your students, but where do you go when your students are already fairly skilled? The SparkFun JetBot AI Kit may be the option you're looking for.
Going Beyond
The SparkFun JetBot AI Kit is a great solution for teachers with students in high school or higher ed classes. This kit incorporates both coding and physical electronics, allowing students to further hone their physical computing skills while learning about artificial intelligence (AI).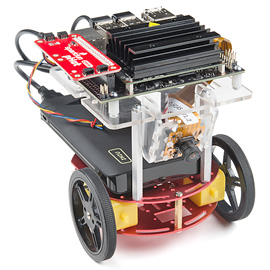 Before we go much further, what exactly is artificial intelligence? Also known as AI, the term denotes the difference between a computer versus a person performing tasks traditionally done by a person. This can be data analysis, visual classification, speech, and more. IBM's Watson is a great example of this.
By exploring AI, students can expand their skills in areas like coding, computational thinking, and physical computing, while also learning about an increasingly important topic in STEM. Students who have interacted with an Alexa device, robot vacuums, or watched Watson win Jeopardy!, will now have the ability to create their own AI device and better understand products in their daily life. Lessons around AI can be extremely interactive for students, helping them to stay engaged.
With an increasing focus on AI, students with a background in this area will be better prepared for the tech-focused future that lies ahead. AI is employed across a variety of industries from rovers in space to personal assistants to a variety of home products. A background in AI could help students with their future careers, as both individuals and businesses become more reliant on AI.
Curious for more details?
The SparkFun JetBot AI Kit has all sorts of tools and is compatible with a number of peripherals (including some Qwiic products) and AI frameworks like TensorFlow, PyTorch, Caffe, and MXNet. The kit comes with the Jetson Nano Developer kit, JetBot ROS (Robot Operating System), and AWS RoboMaker Ready with AWS IoT Greengrass
Since all the necessary building pieces are included (no need to worry about 3D printing!), teachers can focus on helping their students learn about artificial intelligence (AI), not rounding up components*. Even better, there are also tutorials to help students get started. Find them on GitHub. The tutorials cover basic motion, teleoperation, and collision avoidance.
*It should be noted that certain tools like a Phillips screwdriver, basic soldering setup, and computer are not included in the kit, but needed for building the kit.