I think it's safe to say if you're reading this blog, we can agree on some level that robotics is pretty cool. However, cool doesn't necessarily justify adding it to your curriculum or getting budgets approved. So while we can agree that robotics is cool, we need a better reason than that to get started with robotics projects. On the surface, robotics allows students to develop various learning and life skills, while helping make classes more interactive, keeping students engaged.
Why robotics?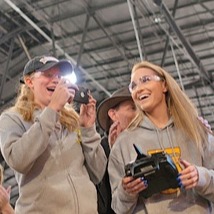 Let's dive a little deeper though. While robotics is cool, it is also an important part of a computer science education. When creating a computer science or STEM-based curriculum, it's important to look ahead to the future we need to prepare students for. Based on various developments across industries, the future is likely to include robotics. Right now, students are growing up with smart devices in their homes, helping simplify various tasks. It's not a stretch to imagine robots helping around the house in the near future when there are already robot vacuums and lawnmowers. Additionally, ensuring that girls stay involved with STEM is important, as the next generation of workforce will need these skills. Robotics can help girls develop greater confidence in their STEM skills through robotics competitions.

Why should students build their robots?
By allowing students to move from writing code to physically constructing their robots, they are more engaged in the entire process and develop a deeper appreciation for how robots function. This can help them write better code, as they more fully understand the physical limitations of their robots. Building a robot also introduces new types of challenges, like wheels not rotating or parts of the robot being too heavy.These challenges help students develop critical thinking skills when coming up with solutions.
By building robots, students can develop important skills such as: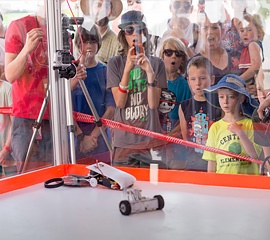 Computational thinking

Mechanical aptitude

Creative thinking

Problem Solving

Tenacity and handling obstacles

Teamwork
All of these skills help students succeed in and out of the classroom, regardless of the subject matter. Now that's pretty cool.
Robotics at SparkFun
If you're interested in learning about SparkFun's robotics offerings, check out our Robotics page, which can help you choose which robots are best for your classroom. Our kits range from simple coding all the way through autonomous navigation, with options for robot construction.