Join us for a series of webinars to learn all about how to bring middle school science to life through programming and instrumentation building using micro:bit and SparkFun's line of gator:boards.
Developed with student engagement and educators' need for something simple in mind, SparkFun's line of gator:boards are designed to easily expand the micro:bit's capabilities through alligator clip connections to rapidly and easily add sensors to any project.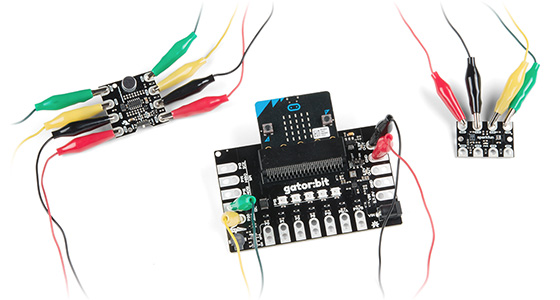 Through this three part webinar series, you will discover fun and exciting ways to utilize gator:boards plus micro:bit to bring science to life and engage students in deeper learning.
All webinars will be held on Wednesdays at 3pm MT (2pm PT/5pm ET). A link will be sent to everyone who registers in case you are unable to join live.
10/9 - Introduction to the gator:boards Ecosystem

Join SparkFun's Derek Runberg as he introduces the gator:board ecosystem of components and discusses the value they can bring to educators and students alike.
watch here:

10/16 - Simple Circuits with gator:boards

In the next installment, Derek explores simple circuits using the LED, button and other gator:boards and demonstrates a simple diorama project perfect for social studies classes.

10/23 - Science exploration with gator:science

In the final installment, Derek explores the SparkFun gator:science Kit and demonstrates a few simple ways to incorporate the gator:science sensors into trusted experiments such as an egg drop.
Sign-Up For Notifications:
*A link to join the webinar will be sent out the day of to everyone who registers.