SparkFun doesn't take summer breaks and we've been making plans for our event season next year where we get to travel all around the country sharing cool new projects and exciting technology like the micro:bit, this year's breakout hit.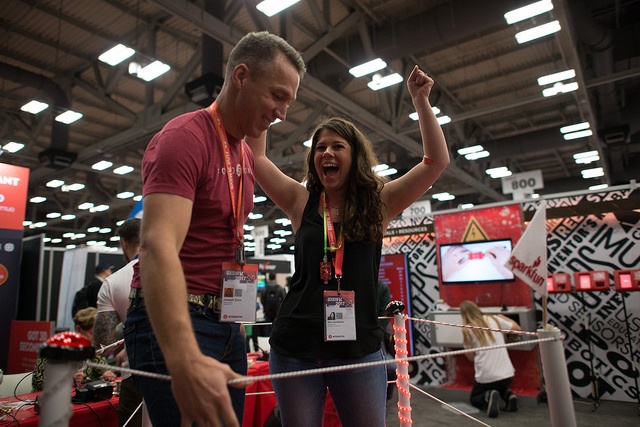 Next year, we have big plans for SXSWedu, one of our favorite shows. We've enlisted the help of our friends inside and outside SparkFun to put together topic ideas for the conference, and we could use your help ensuring they become part of SXSWedu's programming for 2018.
Click on the links below to vote for makers and vote for SparkFun at SXSWedu 2018!
In this workshop, we'll go through the process of taking an electronic design and turning it into a PCB that can be ordered. We've got a nifty audio amplifier concept, but no PCB yet to connect the parts. We'll give you the components! You'll design and order your PCB during the workshop, and have it show up to your doorstep after the event. Learn how to enter schematics, layout holes and traces, and work with the PCB house to verify the design.
With maker tech, our students are learning that changing the world doesn't have to wait until they work in a lab or run a foundation in some distant future. Students today can obtain and analyze massive amounts of data to discover creative ways to help their communities, from studying migration patterns or asteroid images to monitoring beehives or aquaponic gardens. We will discuss five real-world student projects, their impact on the world, and how you can incorporate them into your classroom.
Join our three panelists in a discussion on how to build maker education programs in your school that scales students learning from tinkering through coding and programming to project design and true engineering. One of the challenges facing educators today is building a learning progression using maker tools that encourage students to continue learning as they master different skills.
Explore ways to inspire students with STEAM activities focusing on combining crafting and technology. We'll examine alternative ways to teach introductory electronics and programming using LilyPad sewable electronics pieces. This workshop includes hands-on experience sewing a working electronic project with conductive thread and exploring ways to design future projects and lesson plans.
As maker education becomes increasingly adopted in schools across the country, teachers face a number of challenges from finding funding, learning the new technology themselves, and finding project and classroom activity ideas that will engage their students. Join us and our makers in the wild to mingle with maker educators at all levels and get to know some of the most popular tools, opportunities for learning, and ways to get started implemented maker lessons in your classroom.
And don't forget to sign up for our newsletter or follow us on social media to learn more about all of these topics!