Now that the school year is underway and everyone is settling into their regular routines, there might be more time in your schedule to think about your Spring and Summer plans. For many of you, that means researching options for professional development and training. Lucky for you, SparkFun has just expanded our offerings for professional development to make it as easy as possible to find something that works for you.
1 & 2-Day workshops
Our newest offerings, these workshops are designed to give you a hands-on learning experience. Our trainers put you in the position of the student which allows you to gain a new perspective on teaching. Pacing guides, pedagogy and classroom management techniques are also addressed in these workshops. These workshops can be scheduled to fit your needs, include training for up to 25 participants and can be held at your location.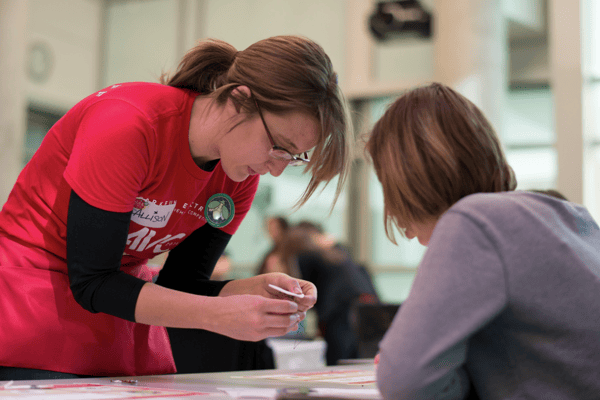 Intro to Raspberry Pi in the Classroom
Learn how to set up and operate this inexpensive computer that is gaining popularity in classrooms across the nation. Using the materials included in the Raspberry Pi Starter Kit, plus a monitor, keyboard and mouse, participants will learn how to use and teach the Raspberry Pi. From there, they will connect hardware using a breadboard and program the Raspberry Pi using block based coding software, Scratch.
Learn Arduino with the SparkFun Inventor's Kit
This workshop is an in-depth look at teaching Arduino programming in the classroom. Using hands-on hardware construction alongside the programming allows for a deeper understanding of the teaching material and higher levels of engagment. Based on SparkFun's tried-and-true guide for learning Arduino, the SparkFun Inventor's Kit, this course will prepare participants to dive in to teaching programming and physical computing.
Getting Started with the micro:bit Inventor's Kit
This course starts with a foundational experience around programming micro:bit hardware and exploring the sensors and actuators that come native to the board. Next, participants will venture into the world beyond the board using alligator clips to build their own circuits using the SparkFun gator:bit and the SparkFun Inventor's Kit for micro:bit.
Robot Dance Party: Intro to Robotics
Combine robotics, programming and art by learning to build and control a robot out of recycled materials. Through the process of designing, building and programming their own robot, participants will truly understand the ins and outs of what makes a robot function. The day ends with a display of each participants's robot boogying to some sweet tunes.
Exploring E-Textiles - Intro to Sewable Electronics & INTRO TO PROGRAMMING WITH LILYPAD ARDUINO
In this two part series, participants will learn the basics of teaching and using e-textiles including soft circuitry and project layout. In part 2, we cover how to expand your e-textile abilities to incorporate programming with Arduino. While basic e-textile experience is required for part 2, participants do not have take part 1 from SparkFun in order to benefit from part 2.
5-Day Microcontrollers for Educators: Teaching Computer Science in the Classroom
Offered each summer, our flagship workshop, Microcontrollers for Educators, is designed to provide educators (middle school and up) a foundation in electronics, programming, computer science, and making for the classroom. In this class, we will introduce the basics of circuits, electricity, engineering and computing using Arduino. The course will focus on both the technical aspects as well as the pedagogy, activities, pacing, and strategies for implementing a project-based STEM classroom. This class is eligible for 3 continuing education credits through Colorado State University.
Join us each summer for one of our open enrollment sessions or request a private training for your school or district.
Custom Training and Consulting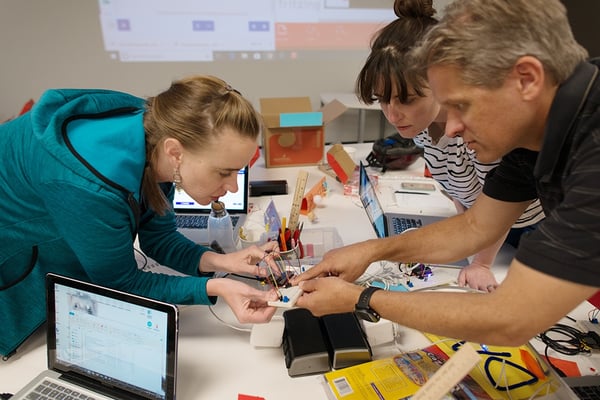 Like what you see but aren't sure it's right for you, not to worry, we have the perfect program for you. With our custom training option, you can customize any of our existing workshops to suit your needs or work with our training staff to create exactly the PD you need.
If you are looking for help designing curriculum or classroom projects, SparkFun also offers custom consulting. Our trainers have years of experience with electronics and teaching in the classroom and are happy to work with you to make sure you are delivering your material in the best way you can.