SparkFun Education is hosting a series of free workshops around the country to introduce STEM educational leaders to the micro:bit. The workshops, called "SparkFun Presents the micro:bit Roadshow: Implementing micro:bit in Your District", are designed to provide a comprehensive review of not just the technology behind the micro:bit, but also how to design instructional programs across learning environments and classroom levels. micro:bit is a compact, powerful tool for teaching programming and physical computing that has gained popularity across the United States since its release in March of 2017.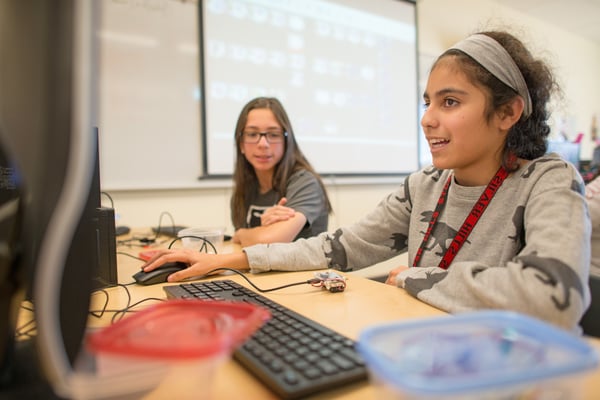 Through these interactive workshops, participants will learn what makes micro:bit so impactful in schools worldwide, discover how the SparkFun micro:bit ecosystem can be used across an entire district to create a seamless technology experience for students and hear from local educators who are currently using micro:bit in their schools. All attendees will be given a micro:bit to take back to their district.
Morning and afternoon events will be held at the following dates and locations:
Tuesday, March 5, 2019 - San Jose, CA - The Tech Museum - The Bowers Institute 145 W San Carlos St, San Jose, CA 95113
Thursday, March 7, 2019 - Chicago, IL - 2112 Chicago - 4245 N Knox Ave, Chicago, IL 60641
Tuesday, March 12, 2019 - Hillsboro, OR - Northwest Regional Education Service District - 5825 NE Ray Cir, Hillsboro, OR 97124
Tuesday, April 2, 2019 - Austin, TX - Ann Richards School for Girls - 2206 Prather Ln, Austin, TX 78704
For those unable to attend the in-person events, a webinar will be held on Thursday, April 11 at 5pm ET. The webinar will include information about the history of micro:bit, what makes it a popular educational tool and ways to use the SparkFun micro:bit ecosystem in almost any grade.
Those interested in attending the in-person events or webinar can register at sparkfun.com/mb_roadshow.
"I love that micro:bit is differentiated for all abilities so kids that don't have strong computer programming skills can still be successful but it's open ended so that those that are avid programmers, and we have some of those at my school, can make their programs do extensions of possibilities beyond the basics," said Christina Espino, Technology Teacher and Digital Literacy Coach in Adams 12 Five Star Schools.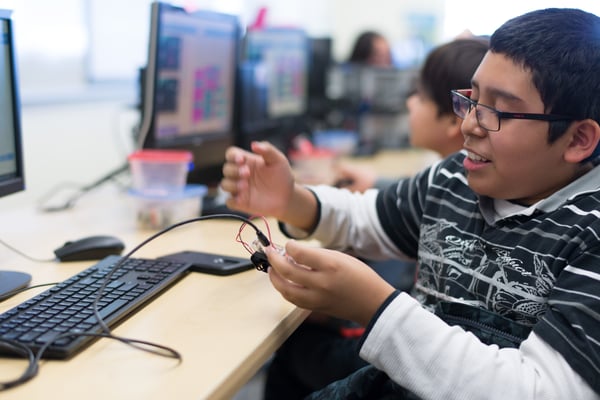 Born in 2015, micro:bit was part of the BBC's "Make It Digital" initiative which was designed to cultivate creative, problem-solving, and STEM skills. Since the initial rollout in the UK, micro:bit has been embraced by thousands of educators and millions of students worldwide. Initial results from using the micro:bit show increased student engagement and motivation in computer science and STEM, improved collaboration, increased application of design thinking and an increase in teacher confidence in teaching programming.
As a Google Chromebook-compatible board, micro:bit can be easily integrated into a classroom's existing technological framework. micro:bit can be programmed using a number of platforms such as MakeCode, an online environment where the user can choose either block or text-based (JavaScript) programming; MicroPython; as well as many others that give users the opportunity to learn a variety of programming languages and their connection to hardware. The board is also compatible with Android and iOS code editors for mobile programming.
"micro:bit is such a versatile, affordable and easy to use tool for the classroom. I'm excited to share the success that other districts are having bringing computational thinking to their schools with micro:bit," said Shelby Landsman, K12 Program Manager for SparkFun.