"Why did you join this program?" As I sit at the front of a circle of middle school kids on the first day of our AppJam+ program, the students in front of me begin to answer my question one by one.
"I really wanted to learn how to code and make an app."
"I want to have a job in computer science some day."
"All of my friends were doing this program."
One of the students, Pablo, says, "I want to represent my school and my city and make something that people can see and be proud of, so they know smart people can come from our school too."
Pablo is just one of the 115 students who participated in this spring's AppJam+, a program hosted by Dreams for Schools and sponsored by SparkFun's Community Partnership Program. Including Pablo's school, the Advanced Learning Academy in Santa Ana, a total of five schools in the Orange County area participated in the program. AppJam+ is an after-school program that takes place over a 10-week period, during which college undergraduates such as myself from computer science and engineering fields act as mentors. We teach middle school students how to code by building an app — specifically a game based on a STEM subject. The students from each school are split up into teams, each with a student mentor to help guide them in their app creation. At the end of 10 weeks, a final showcase allows students to demonstrate their hard work and effort.
Students are awarded Makey Makeys at the AppJam+ 2017 final showcase June 8.
It isn't always easy; staying two hours after school to do more work definitely isn't every student's favorite thing, and, to boot, coding isn't an easy subject. As a mentor, getting everyone to work collaboratively can be a struggle as well. It gets messy when ideas conflict, features are out of scope, or group members just don't get along. Through it all, students always come out showing their strong suit. There are the natural-born leaders, the artists, the innovators/big idea makers, the problem solvers…it takes more than just code to build an app. When the students are able to do what they're most comfortable with and best at doing, they truly shine.
My team this past spring, the Coding Wolves, developed an app called Save Pluto.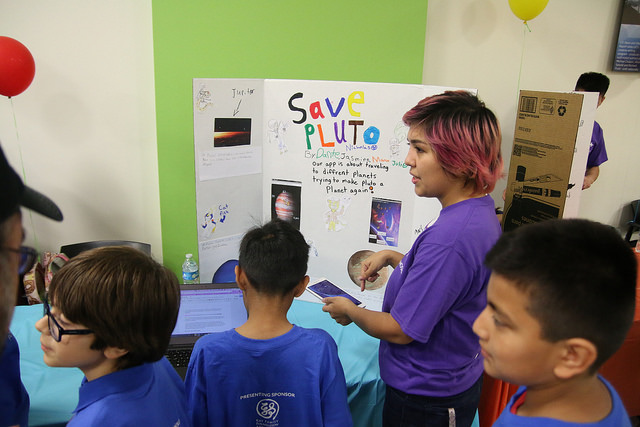 Halfway through the program, they weren't even sure they'd be able to finish the app; there was too much to do in too little time. Though the competition alone was enough to keep them motivated most of the time, getting discouraged by a lack of progress was all too real. When the going got tough, I sat them all down, gave them a snack, and told them if they worked hard enough, they would finish. When it came down to it, they stepped up to the plate and put their best effort forward. In the process of showcasing what they had done, they naturally found their strongest roles, their true talents. In the end, their completed app was polished and intricate — a product that spoke volumes to the future of STEM and STEM education and spoke even louder of the things these kids are capable of. Save Pluto ended up winning second place at the Spring Program and Showcase Finale at UC Irvine.
Being an AppJam+ mentor has granted me the unique experience of being able to teach my mentees something new, something they might never have known about otherwise. I've seen students grow and take charge of learning new things. I've seen them gain the confidence it takes to tackle big problems with even bigger solutions. And most importantly, at our final showcase, I saw what Pablo had wished for at the very beginning of the program. I saw a group of smart, capable and persevering kids who were proud of all their accomplishments.
Samantha Nagle is a rising senior at the University of California, Irvine, and mentor for AppJam+. She is currently earning her undergraduate degrees in both Sociology and Computer Science. After graduation, she hopes to continue her ongoing research on human-computer interaction and social media. When she's not in the library studying fervently for classes, you can find her working on projects with the Video Game Development Club. She is also learning how to roller dance and juggle (but not simultaneously).