SparkFun is thrilled to announce a new service designed to simplify the process of getting materials in the hands of your students.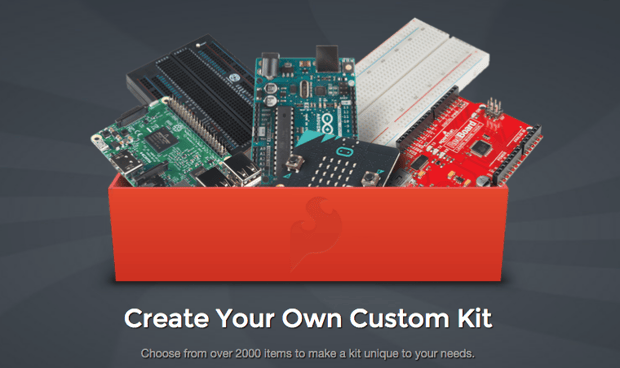 For the past few years SparkFun has been helping some of the top engineering schools create custom hardware kits for their courses. With increased demand for these specialized kits, we decided to offer this option as a simple online process for all educators and partners who want to tailor materials to their needs.
The aim of the Custom Kit Marketplace is to allow a professor, instructor or group to easily design a unique hardware kit for a class or event. Once the kit request has been approved, a new part number will be assigned to the kit and posted on a custom page where students or individuals are able to purchase it. We hope this new service makes life easier for you and your students!
Several educators have already leveraged the marketplace for use in their classes; here's what two educators from Northeastern University have to say:
"One project my students built based on our custom kit is an interactive, electronic game, puzzle or educational exhibit. Each team's project is installed for an afternoon at the Boston Children's Museum, where all museum attendees can enjoy it."
Museum goers enjoy interacting with student projects.
Students present their projects.
"With the SparkFun kit, the students are able to build mini versions of what they see in the real world. We do activities such as building a thermostat, a traffic light with the pedestrian control or an intruder alarm. My students also use the kit to enhance their open-ended final-term museum exhibit project themed in resiliency. Some of the projects are a passive solar house, post-earthquake recovery motion sensor and a solar-powered backpack."
Students show off their solar-powered backpack.
In just three easy steps, you can be on your way to creating a tailor-made product for your students. Learn more about how the process works or create your own kit today!