A while back, we did a post on some of the most influential women of computer science. Since a list like that is never truly complete, we wanted to take some time to reflect on a few more women who have worked to shape computer science as we currently know it today.
While the snippets below highlight the work they are often most closely associated with, I highly recommend clicking through to the link for each of the women listed to learn more about their life and accomplishments over the course of their careers.
Joan Clarke (1917-1996) was a member of the Engima Project that decoded German Navy ciphers during World War II.
Jean E. Sammet (1928-2017) developed the FORMAC programming language (the first widely used general language and system for manipulating non-numeric algebraic expressions) and helped develop the COBOL programming language (one of the most widely used programming languages in the world). A programming language historian, she also created the programming language history chart below.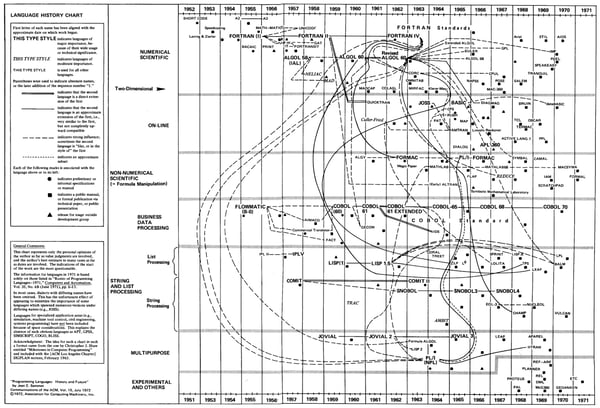 Karen Spärck Jones (1935-2007) laid the groundwork for the modern search engine in a 1972 paper in which she introduced the concept of inverse document frequency, a statistic that helps determine how important a word is to a document.
Margaret Hamilton (1936 - ) is credited with coining the term "software engineering." She lead the team that developed on-board flight software for NASA's Apollo program, earning the Presidential Medal of Freedom for her work.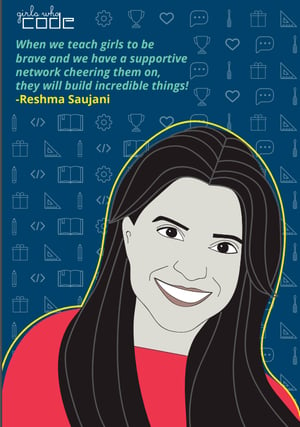 Chieko Asakawa (1958 - ) has spent her career making technology more accessible. While at IBM, she deve
Ayanna Howard (1972 - ) has spent her career researching and improving artificial intelligence, including human-robot interaction, assistive/rehabilitation robotics, science-driven/field robotics, and perception, learning, and reasoning. She is well known for both her work developing AI Mars rovers and SnoMote robots for studying climate change in Antarctic ice shelves.loped IBM Home Page Reader, which became the most widely used web-to-speech system available.
Reshma Saujani (1975 - ) is the Founder and CEO of Girls Who Code, an international nonprofit working to close the gender gap in computer science by introducing more girls to programming.
Brenda Darden Wilkerson - as the Director of Computer Science and IT Education for Chicago Public Schools (CPS), she founded the original Computer Science for All initiative, bringing computer science classes to every student in the district and inspiring the nationwide initiative founded by President Obama.
These are only a few of the many inspiring women changing the face of computer science. Let us know who we missed below and we will be sure to do another follow up post.