As a follow up to last week's post about the value of summer programs to introduce students to physical computing, we caught up with Marcus Duvoisin, the Director of Curriculum & Instruction at Digital Media Academy, to find out more about how programs like his impact students, develop their curriculum and the types of projects students create.
What is the mission of Digital Media Academy (DMA)?

Our mission is to provide a space where a student's curiosity is sparked, confidence is built, creativity is unleashed, and perseverance is celebrated.
What is your favorite thing about being involved with DMA?
We attract the geeks, and we're proud to be geeks. The kind of kids who come to the classes are usually the outsiders in school. Then by the time the end of the week hits, it's like they've found their tribe. The amount of social confidence that they get from that experience is something I get really passionate and fired up about.
Why are programs like DMA important?
To fill the gap in our students' traditional education that is falling behind the evolving labor market, STEM jobs. To expose students to new Digital Tools and Computational Literacy, breaking down barriers for students ability to learn new mediums. Yes, Digital Tools and computational literacy will help a future programmer, but it will also universally help most future professions. At some point in all of our careers, we had to learn some new digital tool. Finally to create a mindset that values creativity, collaboration, perseverance, and critical thinking.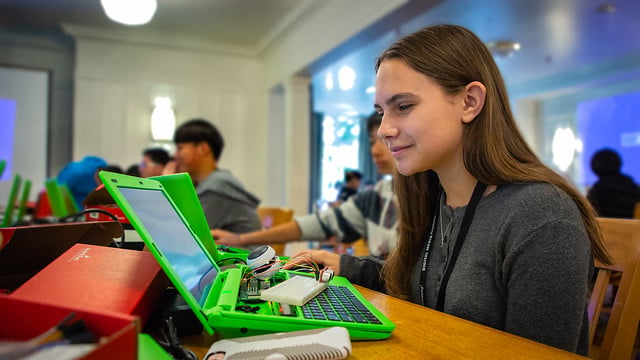 Photo Credit: Digital Media Academy
What types of courses are available?
We have one and two-week sessions that focus on six areas: 3D modeling and design, coding and artificial intelligence, film and photography, game design, music production, and robotics and engineering.
How have your courses evolved over the years?
Our roster of courses pivots with new emerging technology, our AI and Machine Learning course is our most popular for example. It's neat to design courses that they won't get exposure to in their traditional school setting. We've also evolved our high school aged courses to have students create an online portfolio of their work, a useful skill that will carry on with them when they're older.
How does DMA develop their summer curriculum?
Our Curriculum and Instruction team works with a group of 30+ experts in their field to develop courses, which are updated each season.
How long have you been using SparkFun products in your courses?
For over 4 summers in 4 of our difference engineering based courses.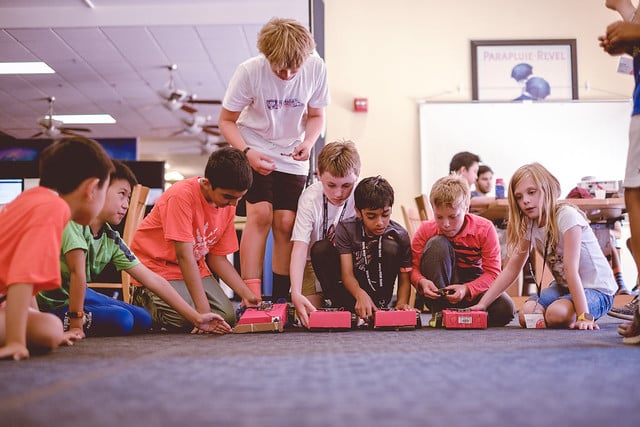 Photo Credit: Digital Media Academy
Why did you choose the SparkFun Redbot Kit for some of your courses?
We tried a few other Arduino based robotics kits prior to the Redbot with mixed results on their reliability. The first summer we included the Redbot kit was our smoothest Arduino summer to date. It's a quality product that integrates sensors and actuators nicely which allows for many project options in our curriculum.
Do you have any new courses this summer?

Yes Autonomous Arduino Robotics, Applied AI & Data Science, Content Creation & Streaming with Youtube & Twitch, Fortnite Game Mechanics and Unreal Level Design, VR & AR App Design with Unity & Oculus, and Adventures in Electronic Music.
What's the most inspiring project you've seen a student create at one of your camps?
In our Python & Electrical Engineering with Raspberry Pi course, one of our students created a project that asks users to enter a password, and if they entered in the wrong password 3 times it would send a tweet to their Twitter account alarming them of an intruder. Coded completely with Python by the student, very impressive.