It's Computer Science Education Week, which means it's also time for the annual Hour of Code event! Read on to learn more and get involved!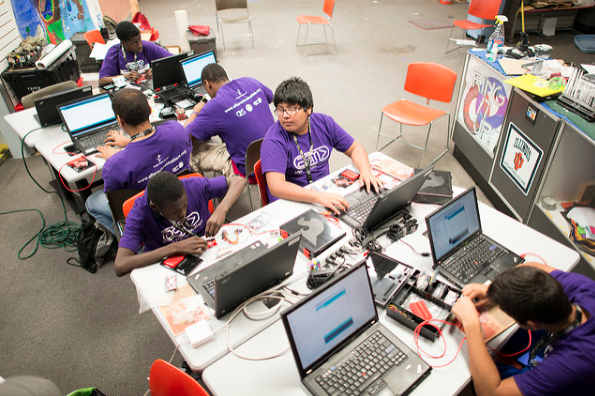 The Origin of Hour of Code
Hour of Code emerged from a challenge launched by Code.org during Computer Science Education Week in 2013, which honors the Dec. 9 birthday of computing pioneer Admiral Grace Murray Hopper. The Hour of Code Challenge was meant to teach computer science to students by getting them to complete short programming tutorials. Supported by then President Barack Obama as well as executives from technology companies such as Microsoft and Apple, the initiative to get students writing short lines of code was announced two months before the event.
That first year, 20 million people participated to write more than 600 million lines of code! After Hour of Code received the highest amount of funding ever raised in an Indiegogo campaign at that time, the 2014 event included 40 million students! In 2016, Canadian Prime Minister Justin Trudeau helped launch the international Hour of Code campaign. More events are being held with every year that passes. To date, 10 percent of the world's total student population has explored Code.org!
How to Participate
Hour of Code events are happening all over the world from Dec. 4 through 10. Host your own event or plan for next year with Hour of Code's step-by-step methods for teaching One Hour of Code. The video below will help you get started.
If you don't want to host your own event, don't worry; there are still plenty of ways to participate. As the map below shows, there are lots of events happening worldwide.

Image source: hourofcode.com. See a list of participating locations.
Want to take Hour of Code to the next level by introducing hardware? Check out this "Beyond Hour of Code" lesson plan using the SparkFun Digital Sandbox or learn more about our new SparkFun Inventor's Kit v4.0.
What are your plans for Hour of Code 2017? What events are you attending? What events are you hosting? Let us know in the comments below!