I recently attended the Digital Media and Learning Conference, a "two-day conference featuring experts on cutting-edge learning practice and design with a focus on access, engagement and equity for all young people." One of my favorite sessions was Textile Messages: Electronic Textiles as Disruptive Designs and Inclusive Activities. Curated and introduced by Yasmin Kafai of University of Pennsylvania, this session was an engaging look into current work around e-textiles and findings across various disciplines, audiences and processes. Read on for more information on each of the projects presented.
Finding a 'Disruptive Corner'
Textile Messages: Electronic Textiles as Disruptive Designs and Inclusive Activities was introduced as follows in the DML schedule:
At the first DML conference in 2010, we introduced electronic textiles as a new material and context for making: stitching circuits with conductive thread rather than soldering wires on fabric to make soft garments rather than robots and rockets. Since then electronic textiles have taken off and been used to promote the learning of coding, engineering, science and more inside and outside of schools. In this panel, we bring together original as well as new participants to showcase various applications and contexts that have been developed for making and learning with electronic textiles. We provide examples of how teachers use electronic textiles to teach science and programming in their classrooms. We discuss ways in which e-textiles offer a "disruptive corner" for engaging girls and minority students in the scientific thinking conversations absent in their classes. This panel is timely for the maker movement in education, as educators and scholars shift from introducing the "new" idea of making to refining and implementing ideas in ways that reach more students, schools and communities in rigorous ways.
This session was jam-packed with panelists from around the country sharing their innovative research and hands-on explorations in e-textiles. Here is a brief look at some of their amazing work.
The Materiality of Design in E-Textiles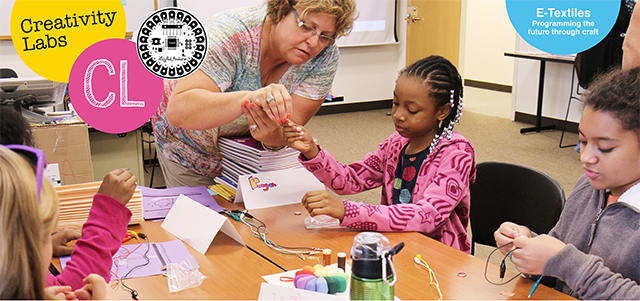 Image courtesy Creativity Labs
Anna Keune presented her work with co-authors Kylie Peppler and Verily Tan of Creativity Labs at Indiana University. They explored physical materials as a key design aspect through observation and interviews with youth in a community center environment creating and engaging with e-textile projects.
Read the paper: The Materiality of Design in E-textiles.
He asked me: Changing the Conversations in Science Classrooms With E-Textiles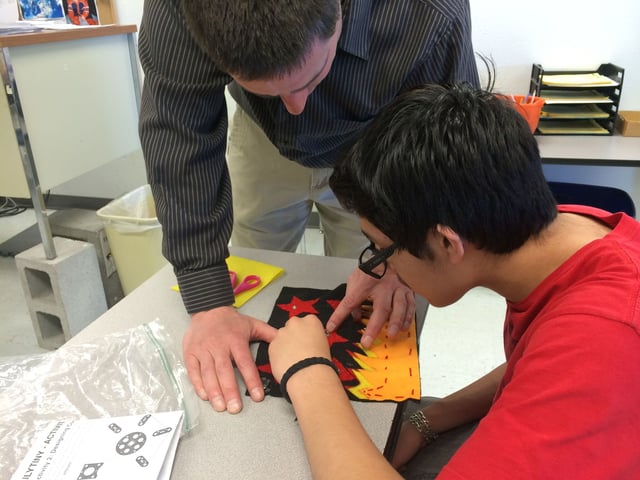 Photo courtesy Colby Tofel-Grehl
Deborah Fields presented colleague Colby Tofel-Grehl's (Utah State University) research and development of an e-textiles curriculum for science classrooms in grades 6–11. The presentation focused on observations of a science classroom that implemented the curriculum through Project STITCH (STEM Teaching Integrating Textiles and Computing Holistically) and the positive identity shifts and engagement that occurred with both the instructor and students when science concepts were presented in an expressive way.
Learn more about the curriculum on the Project STITCH website.
Read the paper: Electrifying Engagement in Middle School Science Class: Improving Student Interest Through E-Textiles.
BodyVis: e-Textiles for Body Learning and Scientific Inquiry
Tamara Clegg from University of Maryland's Makeability Lab shared the BodyVis project, which focuses on using wearables and soft circuits to teach children about anatomy and physiology and encourages them to engage in scientific inquiry through embodied interaction. Students in first, second and fourth grade were given scaffolded activities to explore making and wearing their own data-collection devices.
Learn more about the BodyVis project on the Makeability Lab website.
Read the paper: "That's Your Heart!": Live Physiological Sensing and Visualization Tools for Life-Relevant and Collaborative STEM Learning.
Celebrating Digital Youth Divas
Nichole Pinkard (DePaul University) provided an overview of their successes in developing the Digital Youth Divas for middle school girls' narratives in e-textile designs. Utilizing a social learning environment, Digital Youth Divas provides an alternative way to engage young women in community and computational making.
Check out the project overview from Digital Youth Network:
Digital Youth Divas is an NSF-sponsored (out-of-school program that engages middle school girls, especially those from non-dominant communities, in design-based engineering and computer science activities driven by a narrative story. The program supports girls to develop STEM identities by participating within face-to-face and online spaces to design, create, and re-imagine everyday artifacts (jewelry, hair accessories, music) and activities (dancing and talking to friends) using techniques including collaboration, critique, circuitry, coding, and fabrication. Since 2013, more than 300 girls have participated in Digital Youth Divas programs in Chicago. Participants have demonstrated increased domain-specific content knowledge and development of initial interest in STEM.
Learn more about the project on the Digital Youth Divas website.
Read the article: Digital Youth Divas: Exploring Narrative-Driven Curriculum to Spark Middle School Girls' Interest in Computational Activities in Volume 26 of the Journal of the Learning Sciences.
Stitching the Loop: e-textiles in Exploring Computer Science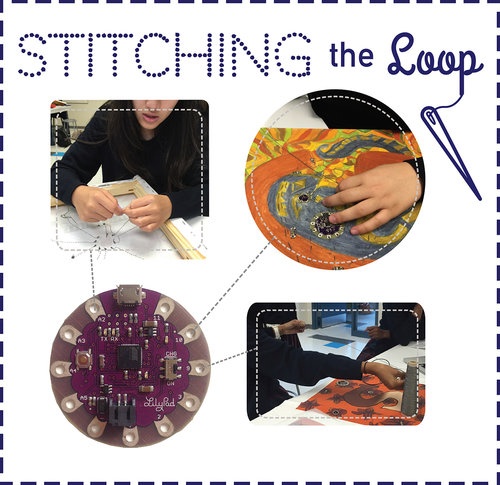 Image courtesy of Yasmin Kafai
Deborah Fields (Utah State University) spoke about her work with a team creating a two-year professional development and training project supporting and implementing an electronic textile high school curriculum with hundreds of LAUSD students. Developed as an alternative to the robotics unit in the Exploring Computer Science program, the e-textiles curriculum helps to broaden and deepen participation in computer science topics through prioritizing personal expression in exploring these concepts.
Description of Stitching the Loop from Yasmin Kafai's website:
The goal of Stitching the Loop is to broaden and deepen the computer science knowledgeable citizenry by attracting more girls and students from ethnically and economically underserved groups. We are developing and piloting a computer science curricular unit for high school students based on electronic textiles, which are fabric-based crafts made with conductive thread, microcontrollers, lights, sensors, and other electronic components. Because of their links to traditional crafts and fashion, electronic textiles have a broad appeal among young people. By leveraging the successful introductory Exploring Computer Science curriculum that is currently taught in high schools across the country, this project will reach thousands of underserved students.
Discussion
The final portion of the session was an engaging discussion led by Leah Buechley, inventor of the LilyPad sewable electronics ecosystem and advocate for e-textile education. Some of the topics that came up were:
The use of Chromebooks and web-based code editing versus software installation

Cost of materials for classrooms/cost of iteration on student projects — how do we work with suppliers to lower the cost of entry for instructors to use these materials?

The experience issue — teachers who have prior craft skills are more likely to be successful

Timing maker activities for different classroom types — time constraints make e-textiles challenging in shorter class periods

How do we leverage virtual support versus tangible support in projects?
Looking to learn more about the impact of e-textiles in education?
If these research projects have inspired you to learn more about the impact of e-textiles in education, check out the following books for more information.
Textile Messages: Dispatches From the World of E-Textiles and Education
Edited by Leah Buechley, Kylie Peppler, Michael Eisenberg and Yasmin Kafai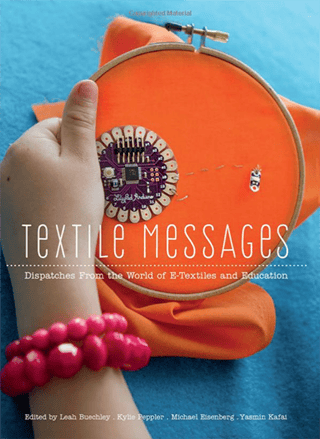 Image via Amazon.com
"Textile Messages" is a collection of papers focusing on e-textiles in education. Topics include development of hardware for classroom use, as well as case studies of implementing curriculum and field work around how communities interact with this new form of electronics prototyping. This is a great resource for educators looking for more background and research on e-textiles or a history of the technology in education.
Soft Circuits: Crafting E-Fashion with DIY Electronics
By Kylie Peppler, Melissa Gresalfi, Katie Salen Tekinbas and Rafi Santo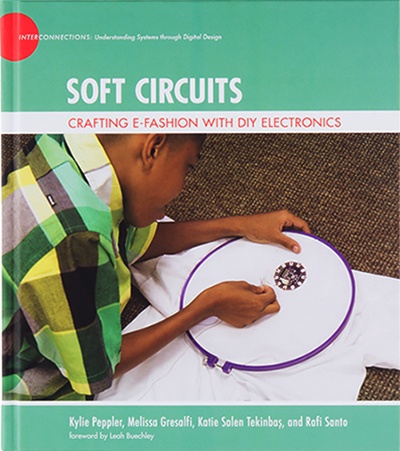 Part of the "Interconnections: Understanding Systems Through Digital Design" series, "Soft Circuits" is a comprehensive educator resource for introducing e-fashion (electronic fashion) with sewable circuits and LilyPad electronics through four design challenges (Introduction to the Electronic Circuit, E-Textile Cuffs, ElectriciTee, and Solar-Powered Backpack). In addition to step-by-step instructions and tips aimed at facilitators, each challenge is connected to Common Core State Standards (CCSS) and Next Generation Science Standards (NGSS). A wealth of vocabulary, reflection and assesment prompts and templates — and a section of Systems Thinking Concept Cards at the back of the book — make this a great resource for educators looking for guidance on adding e-textiles curriculum to their classroom.
Looking to buy hardware to follow along with the book? Check out the wishlists curated by SparkFun.
Short Circuits: Crafting E-Puppets with DIY Electronics
by Kylie Peppler, Katie Salen Tekinbas, Melissa Gresalfi and Rafi Santo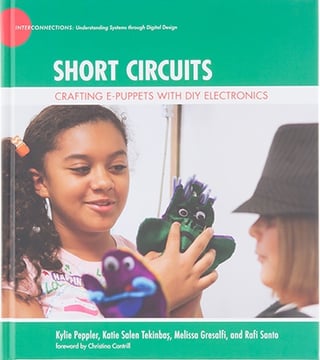 Another title in the "Interconnections: Understanding Systems Through Digital Design" series, "Short Circuits" leads educators through creating a sequence of four design challenges (Introduction to the Electronic Circuit, Making E-Puppets, Speaking Stories, and DIY Flashlights and Shadow Puppets) connected to CCSS and NGSS. This book incorporates storytelling and narrative while focusing on designing and creating electronic puppets and sound-making storyboards.
Looking to buy hardware to follow along with the book? Check out the wishlists curated by SparkFun.