For the past year, my colleagues and I have been getting comfortable in our new home, the Innovation Center of St. Vrain Valley Schools. Our program is fairly new to the district. Our primary mission is to provide students and staff with access to industry-standard resources, including equipment and mentors. More importantly, we provide students with authentic, client-based opportunities to apply their knowledge and skills. Perhaps what distinguishes us the most is that we hire and pay students to work on after-school project teams.
An Investment in the Future
For the past five years, we have been inhabiting 6,000 square feet in our district's Career Development Center. It was a great location for us to start and grow. However, once the district decided to scale our program up to serve the entire district (which meant going from serving 10 schools to 58), a new space had to be found.
That new space is a beautiful, new building, unique in its capacity to engage and inspire. Our main focus now, in my opinion, is to continue offering equally engaging and inspiring learning opportunities for our students and community. This building, as well as our program, represents an investment by our community in our future.
Nearly everyone is aware that millions of well-paying jobs in STEM careers are going unfilled. An important component of our work is to develop a talent pipeline leading our students to these careers.
To me, equally important is our mission to provide students with authentic opportunities to apply what they are learning to genuine problems and challenges they care about. For my teams, this has included building and testing underwater drones for scientists in South America, designing a sensor array for low-level atmospheric research, or writing and teaching STEM curriculum for elementary students.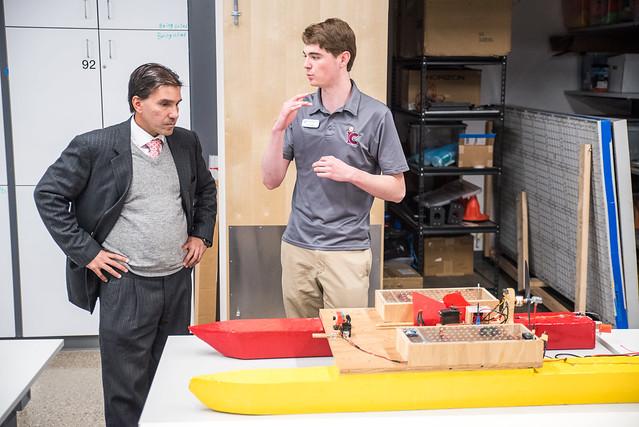 A 12th grade team lead for the Innovation Center Aquatic Robotic's team, explains the design and function of the team's surface sonar boat to the Peruvian consul.
That said, the what is not nearly as important as the how.
Engagement, Rigor and Innovation
My approach is essentially based on three components: engagement, rigor and innovation. In that order.
Among these three, engagement is the most important. It includes, but extends beyond, fun. It is about the type of content students engage with - learning should be interesting and meaningful to them (i.e. hey, we get to help save a frog!). It includes how students work, including the opportunity to collaborate with others as well as individually contribute to the project's success. Finally, it includes the outcome of their work, which should reflect their efforts and creativity (in other words, their intellectual property) as well as be a truly authentic solution to an authentic problem.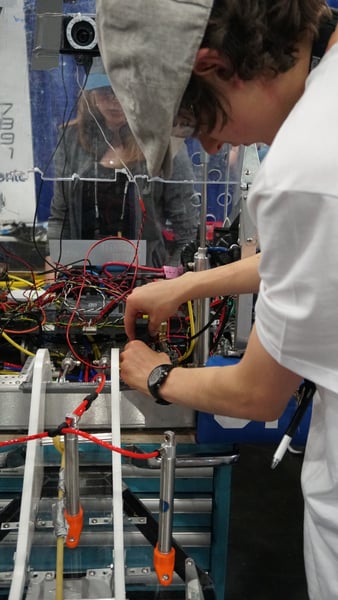 An 11th grader at Skyline High School and member of Innovation Center FIRST FRC team 7891, sponsored by Blue Canyon Technology and Medtronic, makes adjustments to his bot.
Engagement has to go first. Putting rigor first places the cart in front of the horse and often makes learning onerous for the student and teacher. Another way to think about it is that it is easier to pull than push students into learning. Top-down initiatives (i.e. everyone will learn coding) are very different from bottom-up, grass-roots ones which tend to grow organically and have an energy of their own. For example, our competitive robotics program grew fast and furious because it excited students, teachers and parents. It was never required of anyone; rather, they were drawn to it.
Humans are natural learners and problem-solvers - place a problem or challenge in front of students that they care about and they are off to the races. Even better, authentic, problem-based learning creates context for the skills and knowledge students need to master. Why physics? Well, how else are you going to successfully design an underwater robot that drives straight?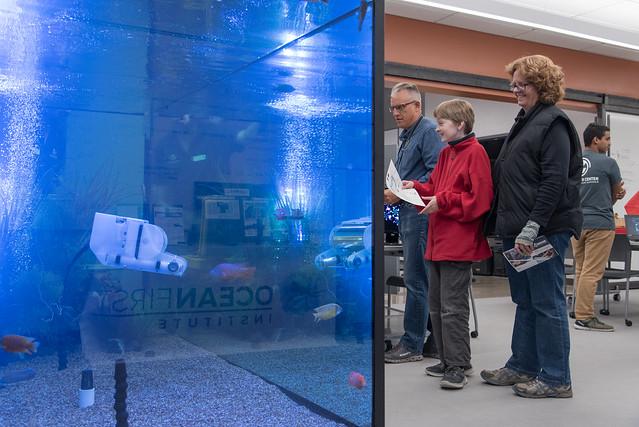 The robotic lab's 1200 gallon aquarium for both freshwater tropical fish as well as testing underwater drones.
It is very important to cultivate student engagement at all levels. Ensuring that all classrooms provide students with stimulating and challenging learning opportunities sets the stage for our students to embark on meaningful career paths; there is clearly a connection between experiencing an engaging education and entering a profession that students will love and care about.
Ultimately, engaged learning is about empowerment. And empowered students are the foundation to an empowered world. I'm proud of the work we are doing at the Innovation Center as well as the work being done across the St. Vrain Valley School District. Every day, we are reaching and inspiring more and more students and helping pave the road to their future.
Axel Reitzig is the Robotics and Computer Science Coordinator at the Innovation Center of the St. Vrain Valley School District, where he teaches robotics and facilitates student project teams. Axel also coordinates robotics and computer science programming in the St. Vrain Valley Schools, with a focus on supporting the district's competitive VEX program, facilitating teacher professional development, managing grants and collaborating on curriculum development.