Each year, teachers with little or no computing or engineering experience come to Manchester, New Hampshire to learn how to apply creativity, collaboration, and computing to amplify the potential of their students. Founded in 2008, Constructing Modern Knowledge (CMK) has offered an intensive four-day, hands-on opportunity to thousands of teachers to explore STEAM, making, technology, and project-based-learning while engaging with peers and a world-class faculty.
For a decade, CMK has demonstrated the creativity and competence of educators while challenging accepted notions of what is possible in classrooms today. Modeling the Piagetian adage, "Knowledge is a consequence of experience," participants take off their teacher hats and put on their learner hats to experience what learning could be for every child. This experience builds a bridge between the learner-centered ideals of progressive education and the modern knowledge construction opportunities afforded by new technological material.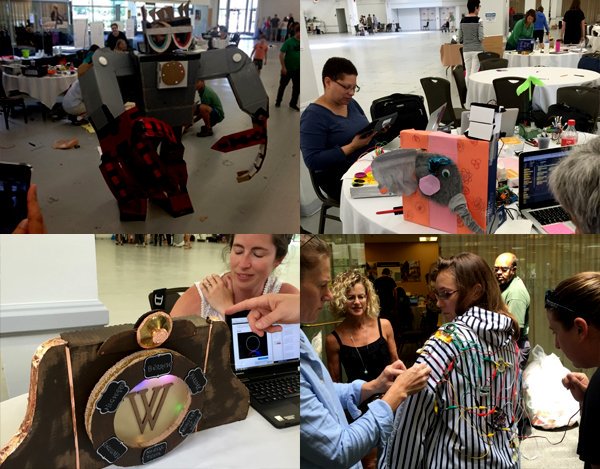 The absence of instruction, coupled with technology, supercharges a learning atmosphere and helps participants feel more human, creative, and expressive. Kelly Watson, a 5th grade teacher from Geelong, Australia described her experience, "For four days, throughout the ups and downs, I had a bounce in my step and a smile on my face. I still wear a large smile and speak excitedly when asked about CMK. If this is what learning can feel like, surely we all deserve to learn this way."
Past participants have programmed microcontrollers, designed their own software, fashioned wearable computers, made films, invented fanciful contraptions, brought history to life, 3D printed their creations, and embedded Raspberry Pi computers in working machines. Recent CMK projects include "Fitbit" sneakers, digital carnival games, a helium balloon-powered drone, an automatic LEGO sorting machine and a fully programmable greenhouse.
Amy Szerminska and her team created a Weasley clock modeled after the magical clock found in the world of Harry Potter (see bottom, left image above). In a reflective blog, Amy shared that CMK was more than just learning about technology. "Aside from the project work, meeting other educators from around the world has been a great learning experience. The huge variety in school philosophies, hometown demographics, and job descriptions has been a fascinating part of our discussions during work and mealtime. Everyone here shares a common interest in the value of making in education, and everyone is committed to taking the best of what they learn back to their schools to improve their students' experience."
One can only imagine the fantastic projects that will emerge from the heads, hands, and hearts of CMK19 participants! Visit this CMK registration web site for more details.

Sylvia Martinez is a maker, mom, engineer, and the co-author of the book, Invent to Learn: Making, Tinkering, and Engineering in the Classroom, called "the bible of the classroom maker movement." Sylvia speaks to and works with schools around the world and is president of Constructing Modern Knowledge Press, creating books and professional development advocating using modern technology for learning. Sylvia is also the principal advisor to the FabLearn Fellows program at Columbia University. Prior to that, Sylvia ran the educational non-profit Generation YES, designed and programmed educational software and video games, and was an aerospace engineer specializing in GPS navigation and high frequency receiver systems.