Editor's Note: SparkFun recently started carrying the ChickTech Soft Circuits Kit. In honor of this, we thought we'd take a few minutes to catch up with Janice Levenhagen, the founder and CEO of ChickTech, to learn more about ChickTech, inspiring girls to pursue coding and what makes soft circuits special.
How did ChickTech start?
I founded ChickTech in 2012 after dealing with years of gender-based harassment and discriminatory environments in technology. I felt unwelcome and like I didn't belong in technology, and I chose to leave the technology industry in order to try to find a place where I could be myself and contribute my skills. After getting my MBA and working outside the technology industry, I decided to start ChickTech to ensure that girls wouldn't have to deal with the same issues by the time they reached their career stage and that women in technical career had a community of support and knew that someone had their back.
What is the ultimate goal of ChickTech?
ChickTech is dedicated to retaining women in the technology workforce and increasing the number of women and girls pursuing technology-based careers. Ultimately, we want to see both a technology sector and the world as a whole be a place where people of all genders thrive and have an equal say in the future.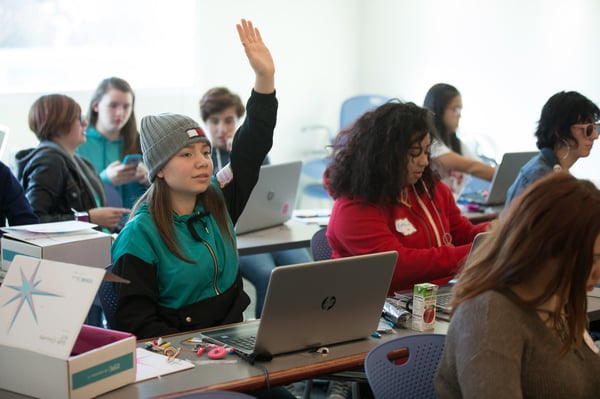 What kind of impact has ChickTech had on women and girls in tech?
Since our founding we have created a national community running programs all over North America. The majority of girls in our programs have never attended a technology workshop before and leave saying they are 73% more likely to pursue a technology-related career. We've shown thousands of girls who don't think that they're technologists that their unique skills are what we need to build our technology future...and that a technology career is a creative, impactful, and exciting career to explore and pursue. Girls and women have told us that we've changed their lives, increased their confidence in their abilities, and opened their eyes to so much potential. Last year alone, we ran 73 events for youth and 171 events for adults, and we can't wait to grow our community to even more parts of North America and the world.
What do you like about e-textiles/soft circuits for introducing women and girls to tech?
What we've seen is that people get more excited about projects where they can be creative and see the potential in their own lives. Soft circuits allows us to meet girls where they're currently at by combining a creative design/fashion element with a technical project. Not all girls are into fashion, but soft circuit projects, from a bike safety vest with lights that turn on when you turn to skirts that light up when you twirl, appeal to so many people who otherwise don't see the excitement and usefulness of technology.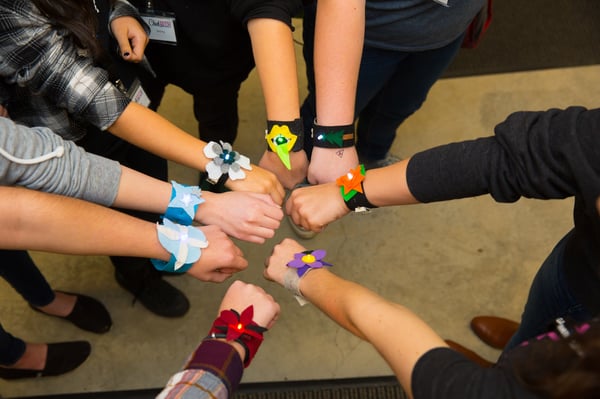 What is the biggest challenge you face in bringing girls and women to tech?
There is more interest than we have capacity to hold! We see so much potential in girls and women, and we just don't have the ability to help everyone who deserves technology opportunities...yet. Our biggest challenge is convincing companies that in order to have a diverse workforce they need to invest in diverse youth and getting them to commit resources to build that pipeline. It's hard to get companies to look forward 5 years instead of the next 3 months, but in order to truly make a difference, we need to change the pathways youth are choosing today so that they choose the classes and majors they need to join the technology industry.
How does what you do inspire women and girls to pursue tech?
We give them a multi-generational community of support where they see themselves as contributors and creators. In a community where they know other women want to lift them up, they can try new things without fear, talk about barriers they're coming up against in their careers and personal lives, and envision a future for themselves and others where they feel valued and able to reach their full potential.
What's your favorite thing about what you do?
My favorite part of what I do is watching women and girls connect with the supportive ChickTech community, learn more about technology, and change their mindset about who they are and what they're truly capable of. I love going into communities and seeing people feel empowered to make a difference in the tech industry and the world -- rather than feeling their only choice is to change industries like I and so many other women have done.
Any final words of wisdom?
Don't vilify things that are seen as "feminine"!
Too often I see people not taking girls (and women) seriously because they're "girly girls". For example, they discourage them from wearing pink, or try to convince them to play with LEGos instead of dolls. We should be encouraging girls to play with both! Let them build towns for their dolls out of LEGOs. Let them envision their dolls in all sorts of roles in that town. But don't send them the message that traditional female careers and skills are less than ones considered masculine. Just because our current society doesn't value the worth that teachers, caretakers and nurses bring to our communities doesn't mean that worth isn't there. If we can show them how technology connects to their interests and that those interests are valid and worthwhile, regardless of what those are, we can move the needle towards gender equality in our society.
All girls are different, and all girls should be celebrated for who they are.