As we at SparkFun take a look back at the past 10 years of sewable electronics, it's exciting to see how far this world has come. From humble beginnings as the research focus of creator Leah Buechley's Ph.D. thesis to a comprehensive product line used by schools and clubs across the country, LilyPad is changing the way we view and teach electronics. To inspire your creations, let's take a look at some of the expressive, interactive projects that the maker community has created over the years.
Climate Dress (2009)
This project proves that wearable tech can be both functional and beautiful.
"The Climate Dress is made of conductive embroidery, over hundreds of tiny LED lights inserted into the embroidery, a CO2 sensor and an Arduino LilyPad microprocessor. The LEDs visualize the level of CO2 in the nearby surroundings and are powered through the embroidery."
MapBag - Haptic GPS (2011)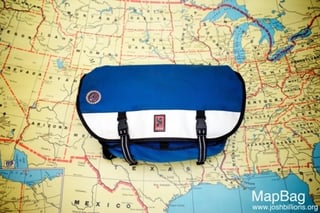 Photo Credit: joshbillions.org
This messenger bag makes it easy for cyclists to find their way to a new destination. By connecting some haptic motors, a LilyPad and the GPS feature of an iPhone, the bag provides haptic feedback to keep the user on course and headed in the right direction.
BeeSim (2011)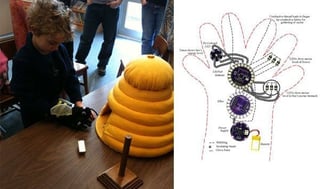 Photo Credit: makezine.com
This fun game was created by a group from Indiana University to teach students about complexity theory and pollination. Children wear a bee puppet on their wrists and must collect nectar from flowers and return it to the hive in a set amount of time.
Sonar "Watch" (2014)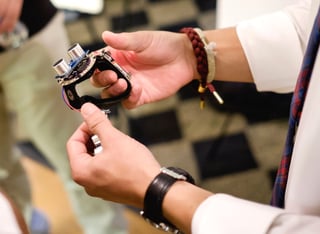 Photo Credit: Wake Forest University
By combining a LilyPad board with sonar distance sensors and two vibrating motors, a group of students was able to create a watch-like device that allows visually impaired wearers to navigate their environment more easily.
Musical Bear (2016)
Combining toy hacking with lights and music, this musical bear project turns an ordinary teddy bear into one that plays music and performs a light show at the push of a button.
Hand Warmers (2017)
For all those cold winter days, these hand warmers are there to keep your fingers cozy and warm. Designed as a more fashionable alternative to medical devices used to help people who suffer from extreme cold sensitivity, these fingerless gloves are stylish enough to be worn by anyone.
These are just a few of the amazing and inspiring projects we see every day incorporating LilyPad technology. Have you or your students seen or created a project with a LilyPad board? Tell us about it in the comments below.