Making is fundamental to who we are as human beings. You don't need to have special training or skills; every single one of us is a maker by nature. Creating a makerspace in your school opens up the possibility of creating for all students.
When speaking with educators about STEAM movements in their schools, the most common phrase I hear is, "I was tasked to start a makerspace in our school by the end of the year, and I don't know where to start or why this is necessary." There are thousands of products and activity ideas you can implement in those spaces, but it is important to know the benefits of inviting students into a creative learning environment where they can experiment with different mediums. Here are my Top 5 reasons makerspaces are important: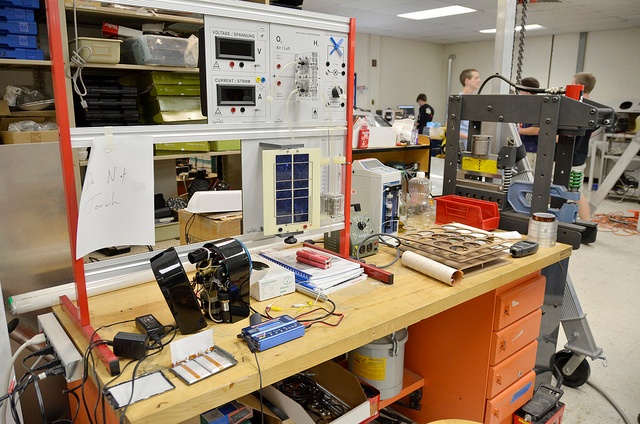 1. Building an Inviting Nontraditional Learning Environment
Makerspaces are pockets of self-directed learning. The hands-on character and materials provide the ultimate workshop for the tinkerer and the perfect educational space for students who learn best by doing. Diana Ngo-Vuong of UCLA writes, "Nontraditional learning and teaching comes from shifting the image of the instructor that knows everything to the students having some input and sharing their own knowledge in addition to the instructor's findings." Students can take ownership of their own education in the makerspace setting. Makerspaces allow students to dictate how their time is spent learning, to lead their own way toward new subjects that are of interest to them.
2. Opening Students up to Different Mediums
There are only so many hours in a day for teachers to introduce new subjects. The existence of a makerspace in a school allows for more diverse disciplines and materials to be presented to students.
As Nicholas Provenzano, The Nerdy Teacher, put it in an article on Edutopia titled "Fostering Creativity with Makerspaces," "we need to encourage STEAM across the board for all students, and makerspaces can be an ideal entryway for students who might not be natural to these fields of study."

3. Fostering Creativity
Most makerspaces don't start out with much; some tools and hardware are thrown together in a space. The thing that dictates the direction and materials eventually found in a makerspace is the creativity of the people in that space.
Provenzano writes that a makerspace "can be the spot that encourages a whole new generation of creative minds to explore and solve the big problems. It gives students a chance to see what they can do when they aren't limited by four multiple choice answers. Creativity is a valuable resource — and a makerspace is the perfect tool to enhance and harness it."
4. Providing a Space for New Ideas and Discovery
Makerspaces allow students to design projects and follow the direction of their individual interests. Providing an inviting space for students to explore new and sometimes intimidating technologies allows students to feel comfortable asking questions that will expose them to new ways of thinking.
An Educause article titled "7 Things you Should Know About Makerspaces" puts it this way:
"Interaction among inventors at these facilities fosters a highly collaborative learning dynamic that is excellent for team efforts and for peer support, advice and assistance. Where these spaces are open to use by faculty, students and staff from a cross-section of content areas, they promote multidisciplinary thinking and learning, enriching the projects that are built there and the value of the makerspace as an educational venue."

5. Creative Problem Solving
Unstructured time and materials within makerspaces offer students the opportunity to work on their own projects and to solve problems in a laboratory-like setting.
An article on Remake Learning titled "Why Makerspaces Give Kids Space to Fail, and Why That's a Good Thing" has the following insight:
"Trial and error (emphasis on the error) is another extension of exploration and experimentation. Kids try things, without the pressure of a grade or a big red mark on their paper. Instead, in this environment, where everyone is working and failing, they're freer to say, 'Oh this didn't work out, how can I make it work?' It's not making mistakes, but how kids react to the "wall" that matters. It's all about turning that initial ding in one's confidence into a chance to learn. That's ultimately empowering and it's special."
Share your top reasons for using or wanting a makerspace in the comments below.
If you're just getting started you can also view our Top 5 Smart Buys for Your Makerspace.