In honor of the Raspberry Jam Big Birthday Weekend March 3–4, teacher-librarian Joe Romano shares his experience becoming an RPi Certified Educator and bringing his knowledge to students and the local community in Tacoma, Washington.
As a teacher-librarian at Annie Wright Schools, I want to spark the interest of anyone who walks through my library's doors. Our books can inspire us to investigate how worlds – real and imaginary – are constructed, and our technology can amplify how we shape our imagination into reality.
For several years, I had dabbled in 3D printing and Arduino, offering library visitors the opportunity to learn alongside me as I boosted my own abilities in and around the world of digital making. We tried to print and program library signage, developed small trinkets and tools, and attempted to use our abilities to solve small design challenges that popped up around school.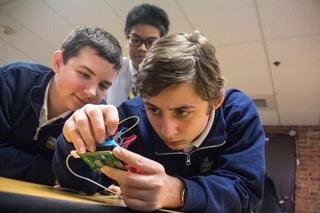 I was curious about expanding my skill set and had heard so much about Raspberry Pi's capabilities. I'd seen the excitement around #picademy, the hashtag used by teachers participating in the Raspberry Pi Foundation's professional development opportunities. However, every one of those sessions had previously been held in the United Kingdom.
And then I heard that the Raspberry Pi Foundation would hold its first Picademy in the United States in February 2016! I leapt at the chance to attend the session, which was held at the Computer History Museum in Mountain View, California.
With 17 years of teaching experience, I've been to forgettable professional development as well as memorable PD. Picademy offers one of the best models of professional development I've ever seen: a two-day hands-on exploration that builds skills, amplifies creative confidence and cultivates community.
#physicalcomputing with Raspberry Pi! The next #picademy workshop: blinking LEDs, switches, & the Pi Traffic Light. pic.twitter.com/XCIoafh9w4

— Joe Romano (@romano47) February 27, 2016
Pi in the Kitchen
Picademy featured two full days of learning for the 30 educators in attendance, along with an amazing group of educators and support staff from the Raspberry Pi Foundation.
Day 1 featured rotations through a few skill workshops as we learned to deploy the many capabilities of the Raspberry Pi through the Scratch or Python programming environments. We were taught how to use Minecraft: Pi Edition, how to breadboard and blink an LED using Raspberry Pi's GPIO, how to activate the PiCamera, and how to use the Sense HAT and Explorer HAT. These sessions were amazing! Even though I had only plugged in my Raspberry Pi a handful of times prior to attending, the guidance and support offered by the team from the Raspberry Pi Foundation was utterly confidence boosting.
So cool, #Picademy! Programming a sense HAT for pixelated jumping jacks. #physicalcomputing pic.twitter.com/zXFkOYhm1b

— Joe Romano (@romano47) February 27, 2016
In fact, all that learning fueled Day 2, which featured a hackathon where we were encouraged to develop a project using the various peripherals and programming skills we had picked up the day before to create something cool to share with the rest of the group. Our incredible cohort of educators developed such a range of creative ideas, from a mechanical arm to a weather data recorder, a motion-triggered camera and even a Twitter-connected Babbage, who would move around the room based on commands you tweet at him.
Raspberry Pi Foundation has released its 2018 Picademy U.S. professional development calendar, with teacher trainings in Jersey City, Atlanta, Denver and Seattle. You should apply, without thinking twice about it!
Sharing the Pi
Two years after Picademy, I've had RPis set up on the library floor and encouraged students wandering through to take a hack at SonicPi or LED displays. I've offered a Build Your Own Computer summer camp experience, where we learn about the range of abilities a pi-top provides. I've also helped my school establish a specialized series of summer programs called CodeMakeDream, which blend human-centered design with digital making skills using 3D printing, Arduino, Minecraft, LEGO® Robotics and Scratch, among other platforms and technologies. Here's the CodeMakeDream mission:
"CodeMakeDream, a new summer experience at Annie Wright, helps young learners find joy and purpose in computer science, engineering, and digital making. We teach coding, 3D printing, and engineering, but even more importantly, we inspire kids to find real problems that matter and help them tap their creativity and emerging technical skills to generate solutions. The experiences are fun, hands-on, and physically active."
Thanks to SparkFun for being a Community Partner for CodeMakeDream and donating a few Raspberry Pis for the summer program.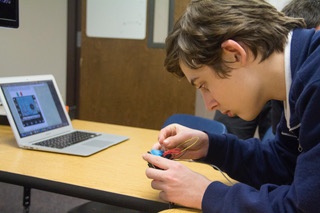 Over the past month, the Library and Learning Commons at Annie Wright Schools has lent out 10 breadboards, innumerable jumper cables, six Raspberry Pis, an array of HATs and a 3D printer. There's the pair of students in our Upper School for Girls developing a sensor-laden glove that can read aloud American Sign Language, a group from our Upper School for Boys exploring the potential of Raspberry Pi for their coding club, and a class in our Middle School experimenting with 3D design. We lend out these technology tools on top of the hundreds of print and digital materials we circulate each week.
I've also helped bring Raspberry Pi into our wider community by assisting a local makerspace in organizing a Raspberry Jam.
Your Slice of Pi
The Raspberry Pi Foundation's mission is to engage kids in the world of computer science. Here are just a few of their resources that might accelerate your learning and teaching of Raspberry Pi: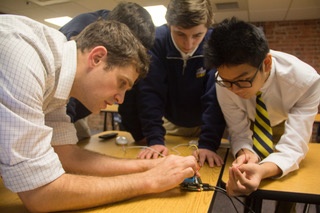 Joe Romano (@romano47) is the library media specialist at Annie Wright Schools in Tacoma, Washington, where he also teaches Humanities and Architecture & Design. With two degrees in English, an affinity for technology and a passion for human-centered design, Romano hopes to inspire his students to adopt a maker's mindset as they build the creative confidence to work with technology tools that are shaping their futures. In February 2016, Romano earned his Raspberry Pi Certified Educator credentials through Picademy and is always excited for an opportunity to share his passion for physical computing with his students and other educators.