What, you might ask, will 18,000 of the top teachers, technology coordinators, administrators, library media specialists, teacher educators and policy-makers be doing the last week of June? Heading to San Antonio for the ISTE Conference & Expo! This hands-on learning and information-sharing experience is recognized internationally as one of the most comprehensive educational technology events out there.
For our second appearance at ISTE, we at SparkFun intend to bring the newest and most exciting classroom technology applications through a variety of workshops. Our presenters are experienced teachers and engineers who are experts in their fields. No matter your skill level or interests, our instructors will have something extraordinary for you.
Take a peek at our workshop offerings and start filling your ISTE calendar with some of the most unique, interactive and forward-thinking lessons out there.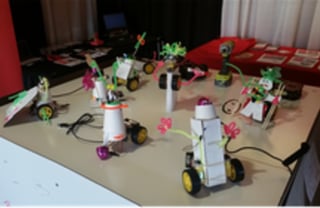 Discover how to build a robotics platform using whatever students can find, like cardboard, recycled cans and a low-cost Arduino microcontroller. We'll also explain how to embed concepts of mathematics, motion, computational thinking and computer science into your robotics lessons.
Date: Tuesday, June 27

Time: 4:30–7:30 p.m. CDT

Instructors: Brian Huang, Jeff Branson, Derek Runberg

Skill level: Intermediate

Grade level: 6–12
Get an introduction to electronics using Arduino to program hardware that interacts with our surroundings to enable physical computing. We'll share how the maker movement is turning students into producers instead of just consumers and demonstrate how this small, low-cost programmable device works.
Date: Monday, June 26

Time: 2:30–4:00 p.m. CDT

Instructors: Jeff Branson, Brian Huang, Derek Runberg

Skill level: Beginner

Grade level: 6

–

12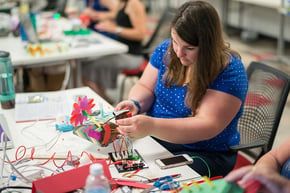 In the past decade, Arduino has become a staple for makers to add interactivity to projects. We have been working on a book highlighting a number of projects that can be done using Arduino with cardboard, ping pong balls and assorted electronics. Come for a demonstration of one of these projects.
Date: Monday, June 26

Time: 5:30–7:00 p.m. CDT

Instructors: Brian Huang and Derek Runberg

Skill level: Beginner

Grade level: 9–12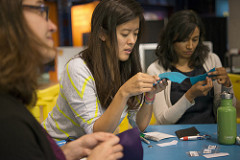 Explore ways to inspire students with STEAM activities focusing on combining crafting and technology. We'll examine alternative ways to teach introductory electronics and programming using LilyMini sewable electronics boards. This pre-wired circuit will be programmed then snapped apart and implemented into an interactive e-textile project using conductive thread.
Date: Monday, June 26

Time: 12:30–3:30 p.m. CDT

Instructors: Angela Sheehan and Mike Grusin

Skill level: Beginner

Grade level: 6–12
Can't make it to one of our amazing workshops? Swing by booth #1909 to check out the latest hardware, kits, activities and professional development offerings from SparkFun!