Break to Make is a two-day, all-women makeathon created to foster a supportive learning environment for women interested in maker culture and product design. Women in diverse fields come to the event to learn new skills in electronics, Arduino, prototyping with 3D printing and pitching ideas.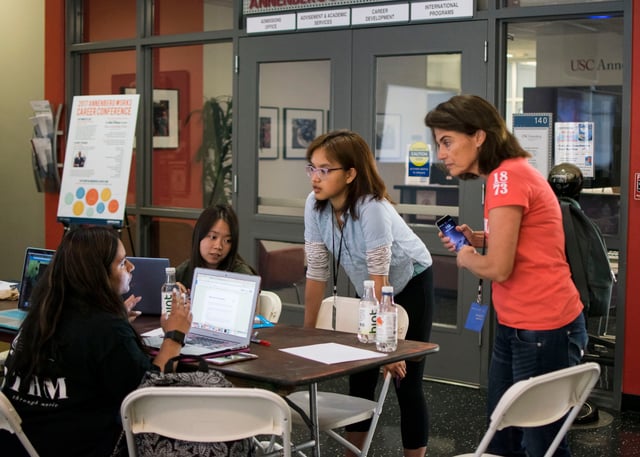 The beginnings of Break to Make are rooted in my background as lead organizer. I'm from an all-girls high school in Silicon Valley, where I spent my free time building robots with the robotics team and could be found painting or making in the school's maker lab off-season. Once I got to the University of Southern California, I came into a male-dominated entrepreneurship space where digital experiences were valued over physical ones. With few maker clubs on campus, I was determined to grow maker culture at USC and build a community of women who were as passionate about making as I was.
Inspired by the MPowered makeathon at the University of Michigan, Break to Make helped validate the importance of tangible product creation and encourage those interested in working on technical, personal projects outside of computer science, the primary major targeted by traditional hackathons. The makeathon also aimed to provide an environment for women to get hands-on experience, unhindered by power dynamics and obstacles often (and unintentionally) created in co-ed teams at hackathons and similar settings.
Making It Work
Break to Make participants developed projects to solve challenges in four categories: food, water and shelter; communications; education; and open design. Projects were evaluated by a panel of judges based on the quality of their solution for the prompt and the participant's pitch. Our judges were incredible women from venture capital, product design/management and engineering: Kate McAndrew, a senior associate at Bolt; Tracy Van Houten, test program lead for the Mars 2020 Rover at NASA Jet Propulsion Laboratory; and Valerie Frank, product manager at Inventables.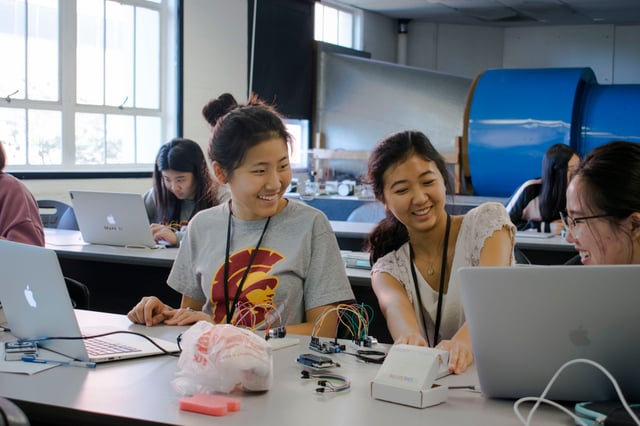 Many participants came with little experience in making and learned on the spot from designing and developing the project, as well as from guest speakers and, most of all, their peers. My favorite projects were an IoT smart table, a 3D-printed disaster relief band and a smart deadbolt for college dorm rooms. The winning teams were awarded Particle IoT boards, Pololu self-balancing robots, Makey Makey kits and swag from sponsoring companies. All of our makers showed incredible determination throughout the weekend, grappling with tough mechanical problems and emerging with a toolbox of new skills.
Making It Real
Our goal with the inaugural Break to Make event was twofold: by showing women at USC that the making space is open to them, we would improve that space for everyone by bringing in fresh and diverse talent. The outward effects of events like these can be difficult to measure, but just a couple of months out from the event, we've already had our participants tell us that they're switching into engineering or joining 3D printing and maker clubs on campus (check out our video for participant interviews below).
I'm most proud of the confidence and knowledge we were able to give our makers in just one weekend. Everyone was able to complete a project by Sunday, and it was clear how much our makers enjoyed themselves. Some of them left us notes on the tables and gave us hugs. I think this quote from our feedback form sums it up pretty well:
"I think there was a really different demographic of participants — a lot of people who weren't engineers and didn't feel like they had much experience with making — so it was inspiring to be able to help some people and learn so much from others. I felt like in just one weekend I saw my teammates (and definitely myself) gain self-confidence and the feeling that we had a place in the world of makers."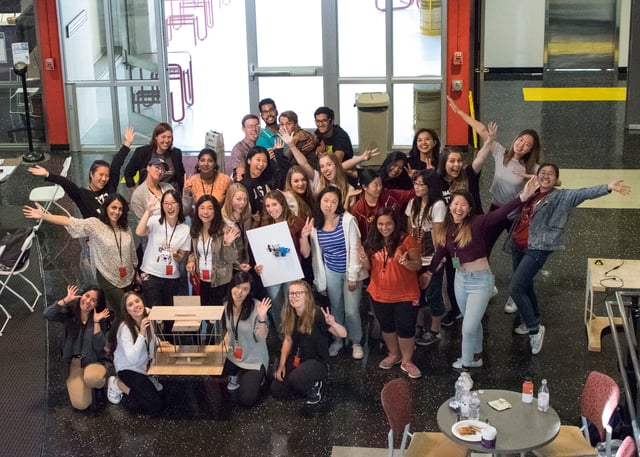 All of this was a team endeavor with Lysandra Vuong, Priscilla Pan, Raghav Maheshwari, Benjamin Stanfield, Liam Maddox and incredible support from USC and company sponsors. Setting out to create a hardware hackathon can be daunting; if you're ever interested in organizing a makeathon and don't know where to start, feel free to shoot me an email at tranzamb@usc.edu.
Mimi Tran Zambetti is a sophomore at USC, where she's majoring in Art, Technology and Business with minors in Architecture and Social Entrepreneurship. She is invested in supporting diversity and inclusivity in entrepreneurship through Spark SC, a student organization that launches initiatives to foster an entrepreneurship community and to connect creators across campus. Mimi's talents include losing track of time while making, maintaining a state of perpetual awe when meeting women in hardware VC, and collecting socks.